My Rail was one of the best app's for the Iphone from
Kizoom
. It gave you the train time and from what platform the trains were running and updates if the service was delayed etc. This app has been an part of my life and in daily use for a long time. Its even told me the correct information when the announcements they make at stations are hard to believe.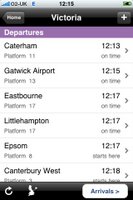 You can get a full run down on what the app did here
http://iphoneapplicationlist.com/2008/12/22/myrail-lite/
as I've said above I've been using this app for a long time and it was sad to see this appear on Twitter.
MyRail: We're sorry to report that our license to distribute real-time train information from National Rail Enquiries is not being renewed.
MyRail: We regret that this service will have to be discontinued as of 31 March 2009. Thanks for all your interest and support
---
I think
National Rail
are missing a trick here unless they come up with an app which is as simple and easy to use as MyRail then I think its going to be a great part missing from my life and it won't make me travel by train anymore as I will not have upto moment information. Their Journey Planner is good but it shows too much you need something that is clean and elegant like MyRail was.
Update:
There is a great article here by Rory Cellan-Jones
http://www.bbc.co.uk/blogs/technology/2009/03/who_owns_train_times_or_th.html
"I'd received a press release promoting another train time iPhone application from - guess who -
National Rail Enquiries
. At the time I'd asked the press officer how the app compared to MyRail Lite - and been promised that it was far superior.
So last night I installed it and tried it out - and it was indeed very good, enabling you not just to check departure times but to plan a whole journey. But there's one catch - it costs £4.99, whereas MyRail Lite was free."
---
£4.99 bloody hell, how can they justify making the information on when train are running or delayed so expensive. I think I'll be giving that one a miss