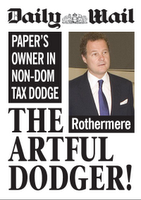 From
www.markthomasinfo.com
Daily Mail Demo- Tuesday the 24th 12-1pm, outside Northcliffe House, 2 Derry St, Near High St Ken tube station. The owner of the Daily Mail Viscount Rothermere is a non dom , so dodges tax in this country and it appears is domiciled in France for tax purposes. SO the owner of the Daily Mail is a tax dodging French man, the demo calls on the writers of the Mail to do their duty and stick it to Viscount Rothermere as sponging foreigner!
The Daily Mail is owned via a series of trusts , involving Bermuda another offshore tax haven... so Richard Littlejohn can get stuck into the paper too!
Download the pdf of the banner placard
http://www.telegraph.co.uk/news/uknews/1578096/What-are-non-domiciles-Non-dom-QandA.html
What is a "non-dom" and what is the Government doing to them?
British citizens with interests abroad can register for "non-domiciled" status, meaning they do not pay tax on earnings made outside the United Kingdom. In an effort to raise money to plug holes in public finances, the Treasury plans to make them pay up to £1 billion every year. Under plans due to take effect in April, anyone who has claimed non-dom status for seven of the past 10 years will have to pay an annual fee of £30,000.