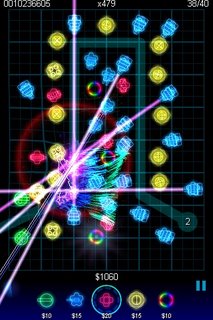 While on a plugging session I thought I'd better just mention Geo-Defense on the Iphone from
http://www.criticalthoughtgames.com
This game is from the classic tower defense genre but I've got to say it has me hooked, the level progression isn't so mad and each level you build on your skills to get the levels down. The game is very strategic it has opening moves which are very precise but then as it speeds up no amount of towers and firepower will save you if you haven't got the pieces in the correct place. Currently I'm on medium and level 7 Bad Plumbing.
Download Lite free version
Full Version
Tip: remember to join your towers to the vortex to increase the vortex power and sap the strength of the creeps.